Shiba Inu Primed to Run Following Coinbase Pro Listing
Key Takeaways
Shiba Inu surged by more than 47% within hours after Coinbase Pro revealed it would add support for the project.
If SHIB continues to benefit from the so-called "Coinbase effect," it could be poised for further gains.
Prices could aim for $0.00000911 if buying pressure accelerates.
Share this article
Shiba Inu has enjoyed a rally after Coinbase Pro revealed it would list the token on its platform. SHIB has surged by 47%.
Shiba Inu Listed on Coinbase Pro
Meme coin Shiba Inu has gathered a significant amount of attention from retail investors over the last few months, with a recent Coinbase Pro listing fueling the asset's rise.
SHIB has jumped this week to become the 54th largest cryptocurrency by market cap.
Coinbase announced it had enabled inbound transfers for SHIB before making it available for trading Wednesday. The trading platform said in a tweet that "once the liquidity conditions are met," Shiba Inu will become available for trading against the U.S. dollar and Tether (USDT) on Sept. 9.
Following the announcement, Shiba Inu's price shot up. The meme coin surged by more than 47%, going from a low of $0.00000555 to a high of $0.00000820 within a few hours. Although SHIB is down nearly 14% since the peak, further buying pressure could see its price advance further.
From a technical perspective, Shiba Inu appears to be contained within a parallel channel. Each time SHIB has risen to the channel's upper or middle boundary since Jun. 5, a rejection has occurred, pushing prices to the lower edge. From this point, it tends to rebound, which is consistent with the characteristic of a channel.
SHIB recently rebounded from the channel's lower trendline. If the price action seen over the past month repeats, it could slice through the channel's middle trendline towards the upper edge at $0.00000911.
Turning this significant resistance barrier into support would signal a breakout of the consolidation pattern, presenting a 36% upswing to $0.00001238.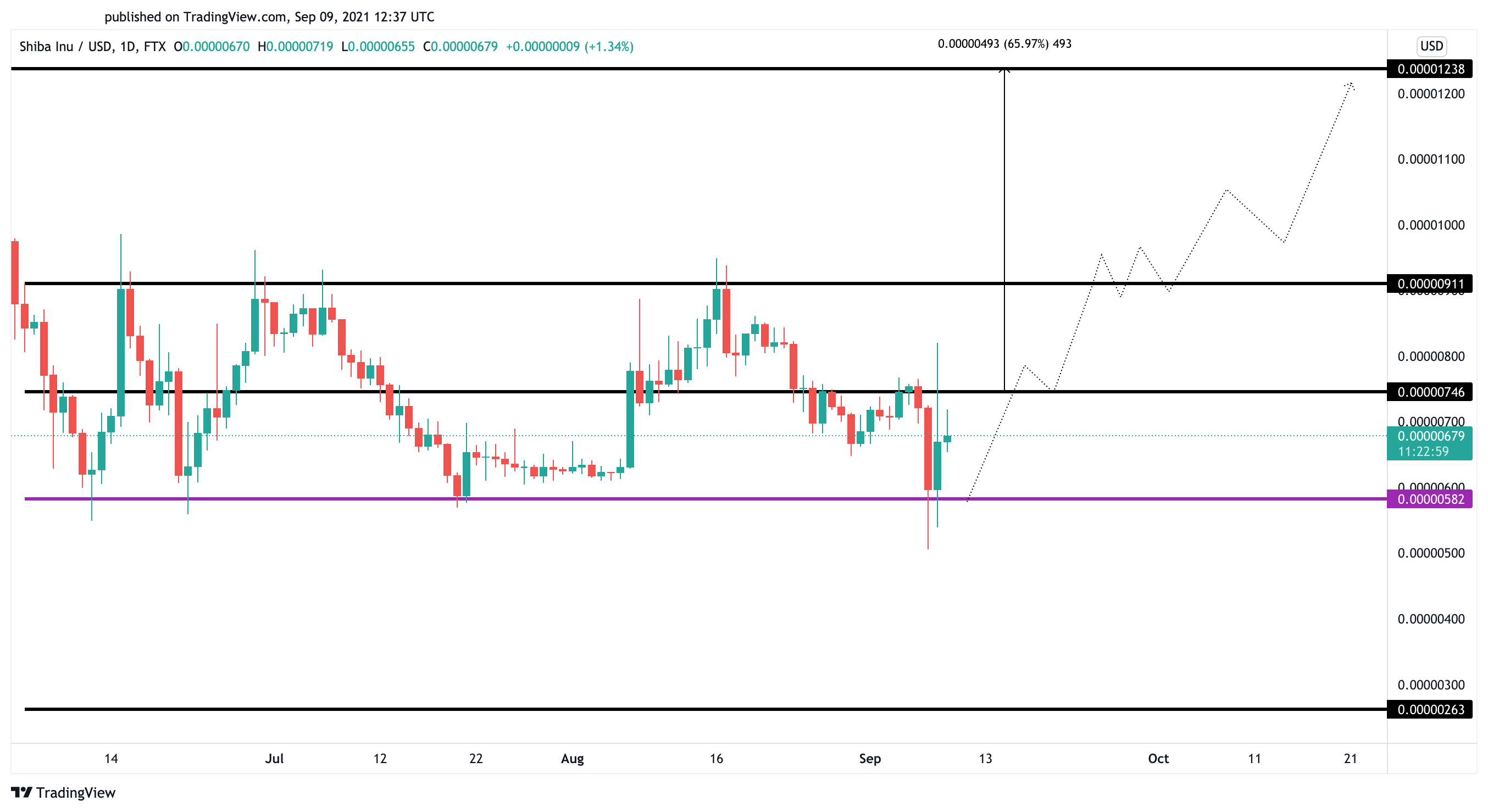 It is worth noting that for the optimistic outlook to be validated Shiba Inu must not lose $0.00000582 as support. A decisive close below this demand wall could lead to a 36% correction instead. The parallel channel's width points to a bearish target of $0.00000263 if support is lost.
Share this article
Slim Jim Celebrates "Doge Day" With Shiba Inu NFT
Slim Jim took part in the Dogecoin community's "Doge Day" event today by creating a non-fungible token or cryptocollectible. Slim Jim Creates NFT The company behind Slim Jim snack foods…
Feisty Doge Becomes Most Valuable NFT Ever
Feisty Doge has become the world's most valuable NFT after investors piled into the fractionalized asset, causing a 721% upsurge. Feisty Doge Fractionalization Doge mania is back, but this time…
Dogecoin Clone Turns to Vitalik Buterin for Coin Burn
Ethereum creator Vitalik Buterin has involuntarily accumulated 50% of Shiba Token's supply over the past year. This week's donation attracted attention as the token's price rose significantly. What Is Shiba…
How to Trade Using the Inverse Head and Shoulders Pattern
In stock or cryptocurrency trading, you may have heard of the term "inverse head and shoulders." Also known as the "head and shoulders bottom" formation, the inverse head and shoulders chart pattern can…