NFT Marketplace SuperRare Announces Token and Airdrop
Key Takeaways
The NFT marketplace has announced its governance token RARE. The token will be airdropped to prior users of SuperRare.
The update includes the creation of the SuperRare DAO, governed by the RARE token, to further curate the platform.
The renewed interest in NFT in the last month has led to what some are calling "NFT Summer".
Share this article
Anyone who has interacted with SuperRare, a highly-curated digital art marketplace, will be eligible to receive the new governance token, RARE.
SuperRare Continues NFT Summer
The NFT marketplace has built a reputation as a highly curated digital art gallery for few artists. Only 1,400 artists have been allowed on the platform so far, handpicked by the platform's team. The team has outlined its vision for SuperRare 2.0 with the release of a governance token. Through RARE, the community will now be in charge of curating the platform.
Introducing $RARE 💎

🎨 A revolution in NFT art curation❤️ Community owned and governed💥 Diverse curatorial voices

We're putting the future of SuperRare and the power of curation into the hands of our community.

Find out how ⬇️https://t.co/lgqUqhFzFO pic.twitter.com/VgX3LEOLrx

— SuperRare 💎 (@SuperRare) August 17, 2021
SuperRare 2.0 will introduce spaces, independently curated storefronts supervised and chosen by the SuperRare DAO. The DAO will oversee these spaces and the platform's treasury, accrued by the fees generated by digital artwork sales.
15% of the RARE token supply will be airdropped to artists and collectors based on their marketplace volume since SuperRare's launch in 2018. 25.5% of the airdrop will be reserved for the team, while 40% will be the basis of the community treasury governed by RARE holders.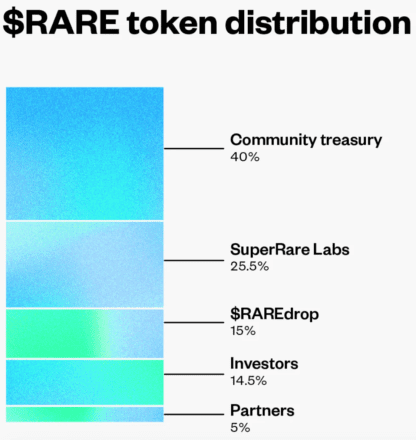 The NFT space has seen renewed interest in the last few weeks, as many projects have seen much higher demand. The original driver of what some call "NFT Summer" has been CryptoPunks, one of the oldest collections of NFT avatars.
Generative art has also been in the spotlight, with pieces like Autoglyphs or ArtBlocks regularly commanding close to $1 million fees. SuperRare, however, is more focused on unique art made by real handpicked artists. While, for a long time, the platform's team was in charge of selecting these, now this responsibility will fall to RARE holders.
Disclaimer: The author held ETH and several other cryptocurrencies at the time of writing.
Share this article
Has Crypto Entered "NFT Summer"?
Prices for in-demand NFTs like CryptoPunks, Autoglyphs, and Fidenza have hit record highs this weekend, while projects like Axie Infinity have exploded in popularity over the last few weeks. Is…
Ethereum Whales Are Spending $100,000 on Digital Rocks
An early NFT project called EtherRocks has soared in value this weekend, with the floor price more than doubling in 48 hours.  EtherRocks Sell For $100,000 EtherRocks is the latest…
What is Impermanent Loss and How can you avoid it?
DeFi has given traders and investors new opportunities to earn on their crypto holdings. One of these ways is by providing liquidity to the Automated Market Makers (AMMs). Instead of holding assets,…
How CryptoPunks Inspired a Wave of NFT Avatars
As one of the earliest examples of non-fungible tokens, CryptoPunks have become the most coveted NFT avatars in existence. Subsequent projects have sought to develop the concept of NFT avatars…