5 Top Crypto to Buy this Week [BTC, ETH, ADA, BNB,MATIC] August 2021 Week 2
The overall market cap for the crypto industry is pegged at $1.83 trillion. Over 11,000 cryptocurrencies are currently listed, and many more are being added by the day. Adoption has also doubled, per a Crypto.com report. For most investors, this can be overwhelming finding the top crypto to buy for maximum returns. To streamline this process, we created a roundup of top crypto to buy this month.
1. Bitcoin (BTC)
Bitcoin making the top crypto to buy list is non-contestable given the massive growth and contribution the leading digital asset has made to the emerging crypto industry.
The top digital asset singlehandedly brought the crypto industry to life.
According to a report by blockchain analytics firm Glassnode, investors who have held their BTC for more than a year do not want to liquidate their investments.
Despite a strong rally to $45k, the #Bitcoin market still has not seen a significant increase in old coins (> 1y) being spent.

This is very different to the 2018 bear market where old hands took exit liquidity on most relief rallies.

Live Chart: https://t.co/WUsUZNUbkZ pic.twitter.com/JBtXg6Iuet

— glassnode (@glassnode) August 9, 2021
This is in direct contrast to new Bitcoin holders who invested in BTC within the timeframe of three to six months.
The report noted that there was a growing "hodling behavior" from BTC investors. This behavior was not apparent in the 2018 crypto market crash.
Also, Bitcoin fundamentals are gradually piling up. BTC's hash rate and difficulty are showing upward progress.
According to a recent hash rate survey, the estimates now put hardware dedication to BTC mining at more than 100 exahashes per second (EH/s).
This is more than June's reading which stood at a low 20 EH/s. This increase comes despite the crackdown on Chinese miners, who represented more than 65% of the global crypto mining community.
Bitcoin's descent from its record number of $65,000 was initially seen as the start of a bear market that precluded the 2018 crash.
However, changing dynamics in the crypto space have seen BTC gain more than $5,000 in three days, preparing to reach the $50K mark.
BTC is on a bullish run at press time and is trading at $44,920.91, up 2.36% in the last 24 hours. Its relative strength index (RSI) is at the overbought level of 70.38.
2. Ethereum (ETH)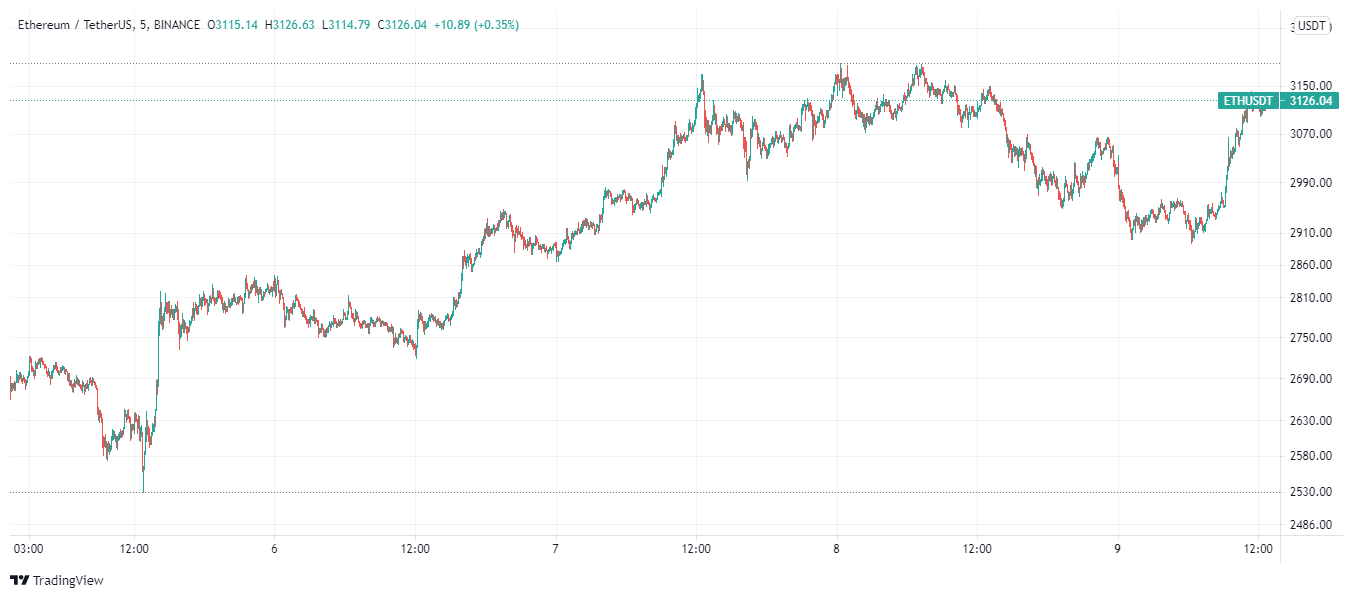 Etherum is our next top crypto to buy because it is the second most valued cryptocurrency and due to some fundamental changes to the Ethereum network.
Any investor familiar with the crypto universe understands the unique value the Ethereum network facilitates. Ethereum enables the creation of blockchain-based applications or decentralized applications (dapps).
These permissionless apps have served as the bedrock for the booming decentralized finance (DeFi) sub-sector, which has attracted several retail and institutional investments. Ethereum is the official home of some of the leading dapps platforms in the world presently.
In the past week, the Ethereum development team launched the London hard fork (a set of upgrades to its PoW mining protocol), which has seen the value of its token ETH surge.
One of the most prominent upgrades is the EIP-1599. EIP-1599 enables the burning of a certain amount of Ether after every transaction. This has led to the scarcity of Ether and propelled its value to rise based on market forces.
At press time, ETH is trading at $3,068.11 and is up 18.97% in the last week. Crypto enthusiasts believe that once the migration to a proof-of-stake (PoS) algorithm is complete, Ethereum's value will eclipse its ATH of $4,350.
3. Cardano (ADA)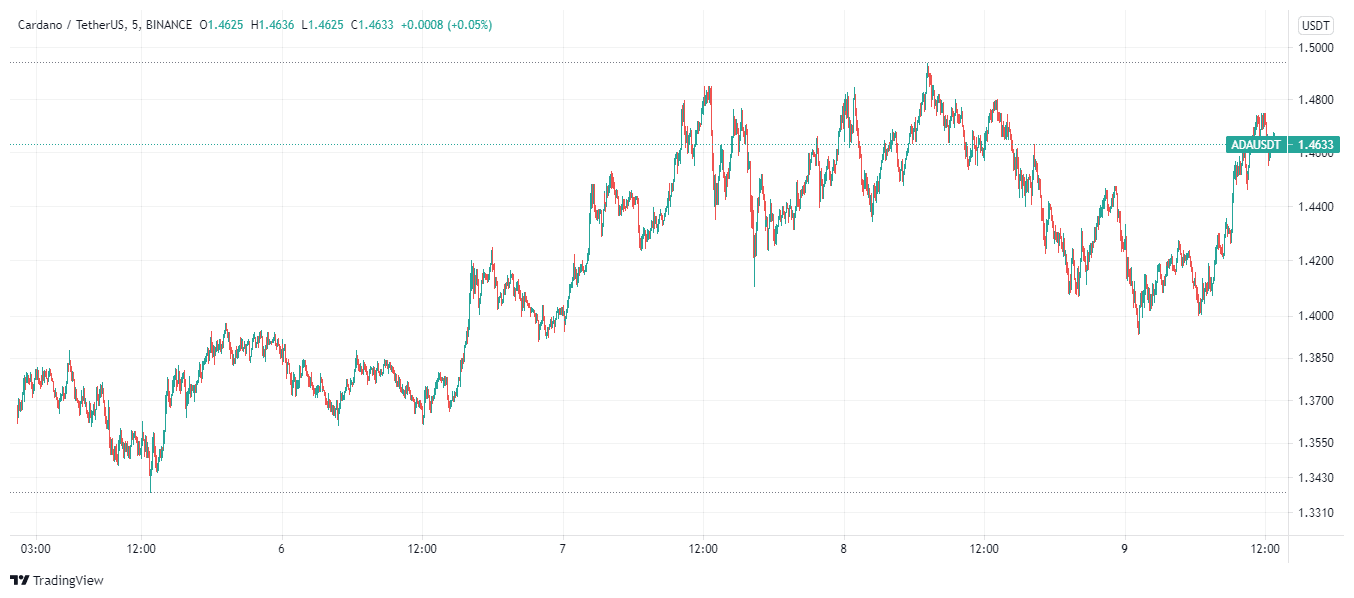 Cardano is another top crypto to buy this August.
The Cardano network is a peer-reviewed blockchain that uses scientific methods to validate and build its blockchain. Even though the project has not officially launched, Cardano has generated much buzz in the rapidly expanding crypto community.
The third-generation blockchain uses a proof-of-stake (PoS) consensus algorithm called Ouroboros. This in-house developed mining protocol uses epochs or timeframes to facilitate transaction verification on the Cardano blockchain. This way, it saves on energy, and developers can build on the network without paying astronomical fees as it is more scalable than the Ethereum network.
Cardano is currently deploying its Alonzo hard fork, which will see it enable smart contracts technology on its network. Scheduled to conclude by the end of this month or early September, the network has become a major contender for the rapidly growing community of dapps.
This has positively impacted its ADA token, which has risen over 9.73% in the last week. The token has continued its momentum after opening the year at $0.1174. It has surged more than 1,000%, climaxing at a record value of $2.20 on May 14. However, its value has since dipped, with the token surviving the brunt of the market value and staying above the $1 mark.
ADA is trading at $1.4635, up 0.35% in the daily chart. Its RSI is at an astronomical level of 65.86.
4. Binance Coin (BNB)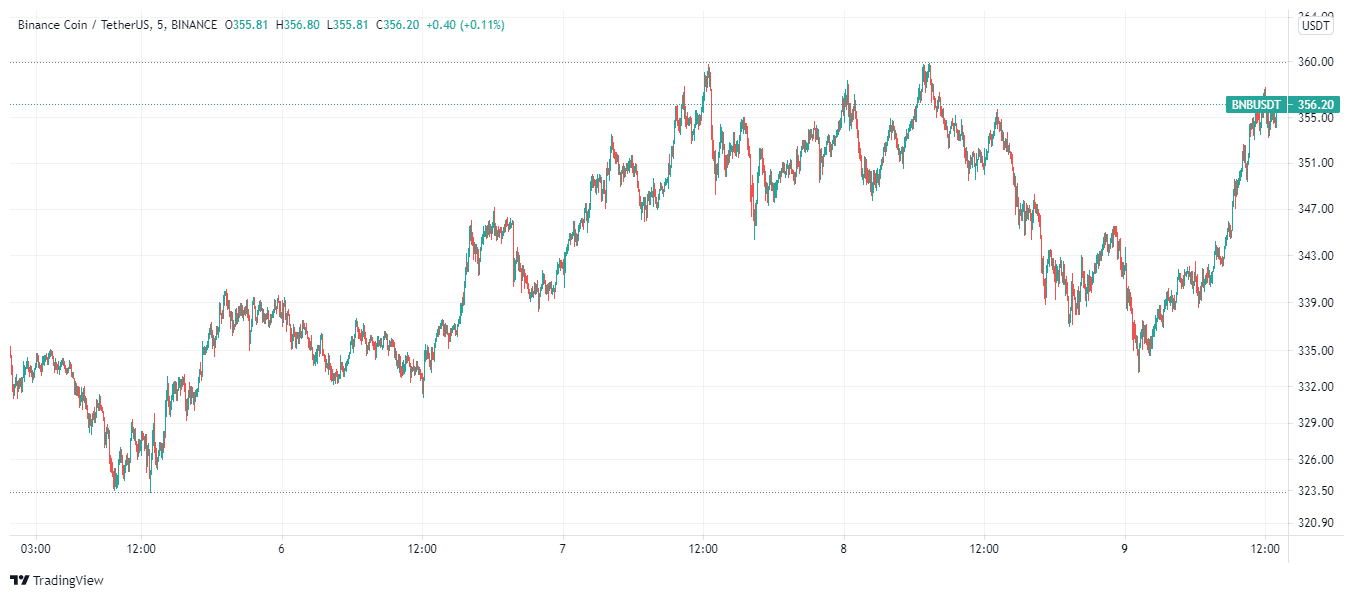 Occupying the number four position on the global crypto chart, Binance Coin or BNB is the next top crypto to buy. The native token of the Binance crypto exchange, BNB, is meant to serve as a discounting tool for traders on the world's largest Bitcoin exchange.
The BEP-2o token's rise to the top five crypto assets has been nothing short of a miracle as it has grown with its parent platform.
Its use case in Binance Smart Chain (BSC) has aided its meteoric rise. BSC aims to enable a more cost-effective platform for developers and directly rivals the Ethereum network.
BNB is also a crucial ingredient in the Binance-owned decentralized exchange (DEX) platform PancakeSwap, which enables atomic swaps of digital tokens.
The digital asset made a name for itself after it surged to a record value of $650 in mid-April from $38.
While its value has declined from its all-time high of $650, BNB is still a top crypto to buy, given its growing adoption.
It is currently trading at $354.82 and is up 0.93% on the daily chart.
5. Polygon (MATIC)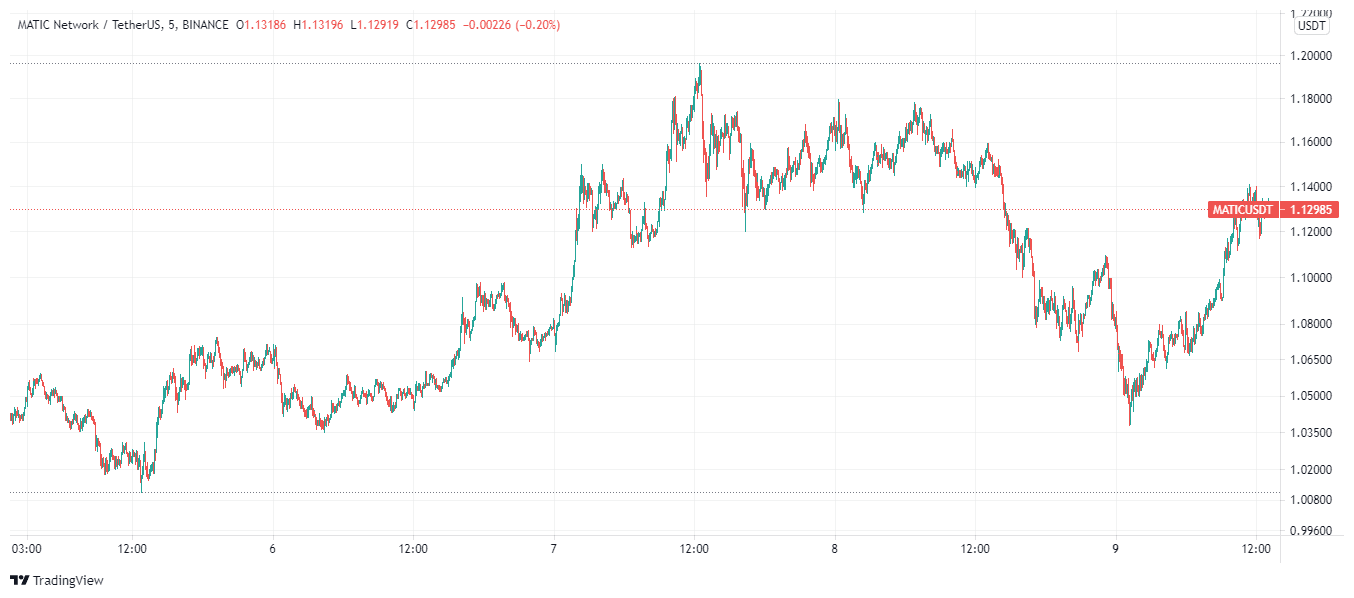 Last but not least of our top crypto to buy is layer-two scaling solution Polygon.
Formerly known as the Matic Network, Polygon has become a top digital asset since it enabled the often-slow Ethereum network to become a full-fledged multi-chain system.
This stop-gap solution has enabled Ethereum to compete with rising competition from interoperable blockchains like Polkadot, Cosmos, Cardano, and Avalanche.
Polygon enables an easy-to-use platform for Ethereum scaling and infrastructure development.
It uses its in-house Polygon software development kit (SDK), a modular, flexible framework that supports building several dapps.
Its 65,000-powered transaction per second (TPS) speed has seen several blockchains integrating with it. The MATIC token has also become a top performer rising to an ATH of $2.62 on May 18.
At press time, it is trading at $1.13, down 1.04%. However, it is on a bull run and is trading above the 20-day moving average (MA) support price of $1.03499.
67% of retail investor accounts lose money when trading CFDs with this provider