5 Best Cryptocurrency To Buy For Long Term Returns August Week 2
Investors are always looking for the best cryptocurrency to buy for long-term returns. In this article, we examine the assets that can earn maximum returns if you buy them now. Our review consists of heavyweights such as Bitcoin and Binance Coin. Let's jump right into it.
1. Bitcoin (BTC)
Bitcoin is better known as the first-ever virtual currency to gain mainstream adoption. Its crucial position in the nascent industry makes it the best cryptocurrency to buy this month.
Bitcoin's value appears to be increasing rapidly despite criticism over its toll on the environment and crackdowns. Lawmakers are even considering regulating digital assets in the US despite the multiple pushbacks from the SEC.
US lawmakers have also recently passed a new infrastructure bill where many senators seek clarification on the wording used in defining brokers. The bill initially proposed an expanded cryptocurrency taxation to raise an additional $28 billion in revenue.
While the US continues to draw up new rules, fellow American nation Argentina has revealed a willingness to adopt Bitcoin. Argentine President Alberto Fernandez indicated support for Bitcoin while answering a question about whether he would follow El Salvador's footsteps.
Businesses continue to adopt Bitcoin. AMC, the world's largest movie exhibition company, is preparing to join a growing number of businesses that accept Bitcoin as payment. AMC boss Adam Aron recently disclosed that his company is mulling Bitcoin payments for movie tickets and concessions by the end of the year.
Bitcoin is staging a comeback as it is trading at $46,348. The coin is up by 4.03% in the last 24 hours on the daily chart.
Looking at its technicals, Bitcoin is on an uptrend surpassing the 20-day moving average (MA) support at $46,545. In addition, the Relative Strength Index (RSI) is also bullish, showing 56.48.
Bitcoin's long-term potential is bullish on the 200-day MA, which shows a price of $46,393.
Capital at risk
2. Ethereum (ETH)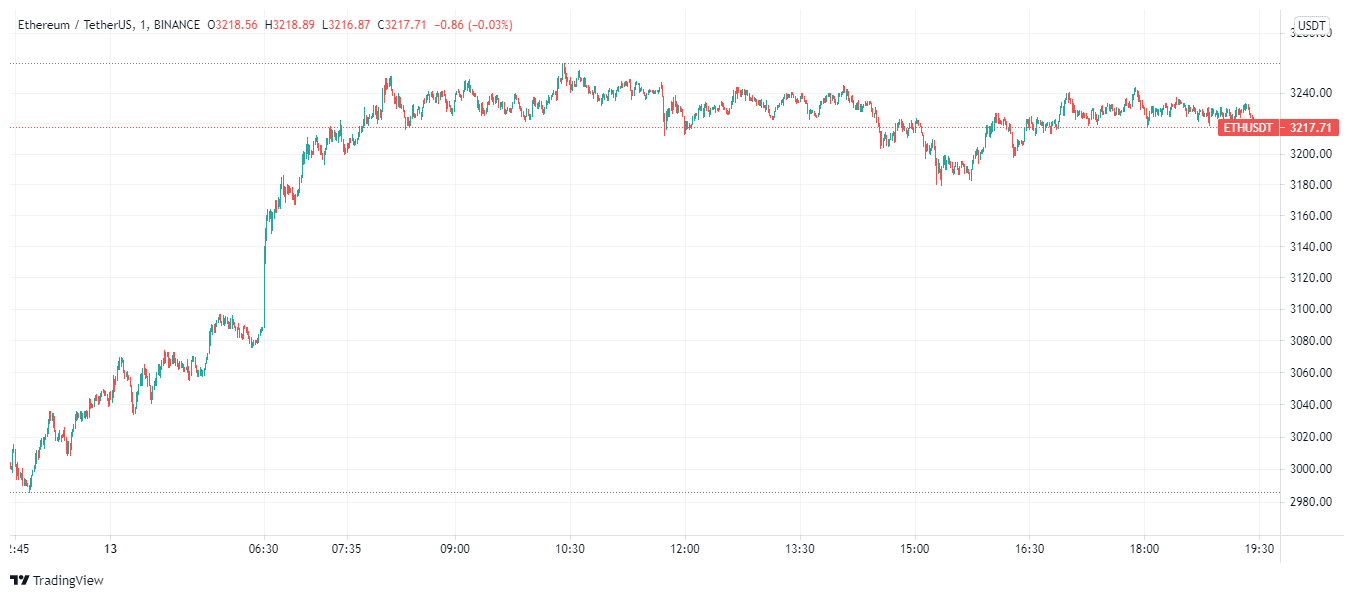 The growing demand for Ethereum due to recent developments on its network makes it one of the best cryptocurrency to buy for long term returns.
The Ether (ETH) token has rallied far above average in the last month as it has gained momentum from its London hard fork upgrade launch.
The upgrade is part of Ethereum's larger plan to transition from the proof-of-work (PoW) consensus mechanism to the proof-of-stake (PoS) mining protocol. The London hard fork consists of five Ethereum Improvement Proposals (EIPs), containing a set of code changes to the network.
Ethereum's developers aim to address the long overdue issues on scalability and high network fees on the network.
This hard fork for Ethereum has led to enormous gains for the ETH token. The asset has surged above the $3,000 mark, around 30% off its all-time high of $4,362 it reached on May 12, 2021.
At press time, Ethereum was trading at $3,217, increasing 3.76% in the last 24 hours. Its long term 200-day MA is at $3,326, while its RSI is at 56.21.
Capital at risk
3. Binance Coin (BNB)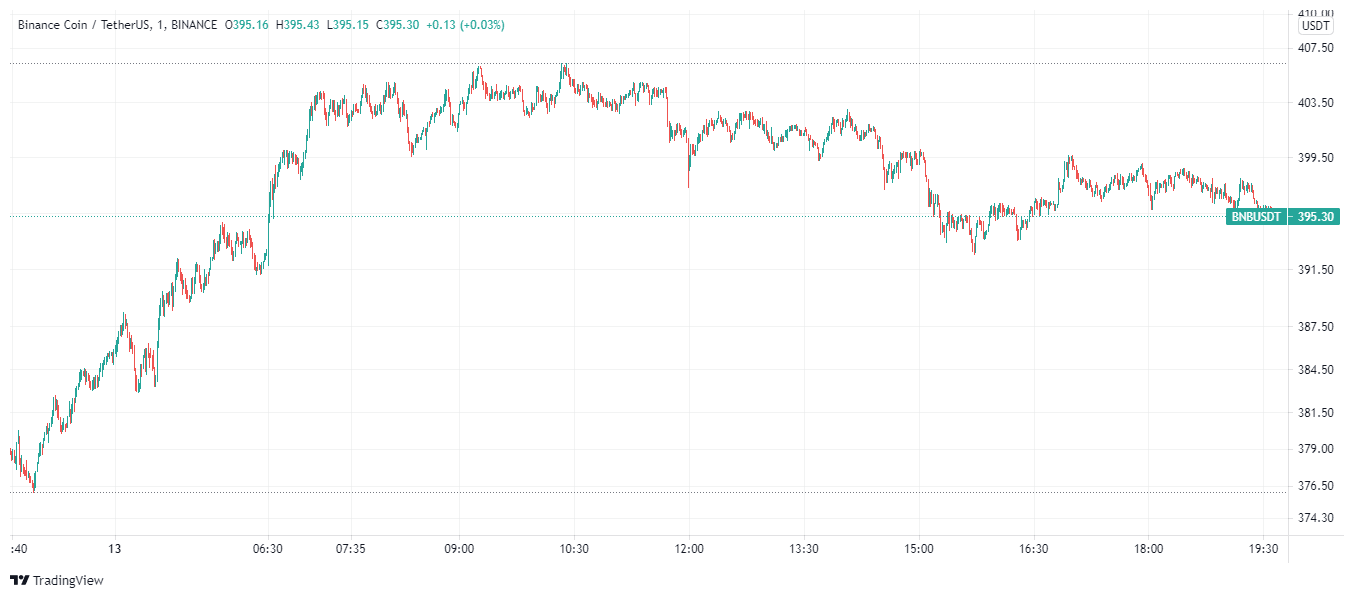 Binance Coin, also known as BNB, is next on our list of the best cryptocurrency to buy for the long term. BNB's fast growth and swift rise in popularity boil down to its use as a discount token on the Binance exchange and the Binance Smart Chain (BSC) development.
BSC has been working on securing its network from hackers and cybercriminals. The project recently launched a $10 million bug bounty fund for projects building on top of the protocol called "Priority One." The initiative encourages security experts and bug bounty hunters to keep the blockchain network secure.
Price-wise, BNB is trading at $404.54 and is up by 4.52% in the last 24 hours. It is currently the third-largest cryptocurrency according to CoinMarketCap, with a live market cap of $68 billion.
The token can increase in value further, another reason why it is the best cryptocurrency to buy this week. BNB's potential can be seen on the chart, with the 200-day moving up from its present trading at $395. The Relative Strength Index (RSI) is also at 45.15.
Capital at risk
4. Polygon (MATIC)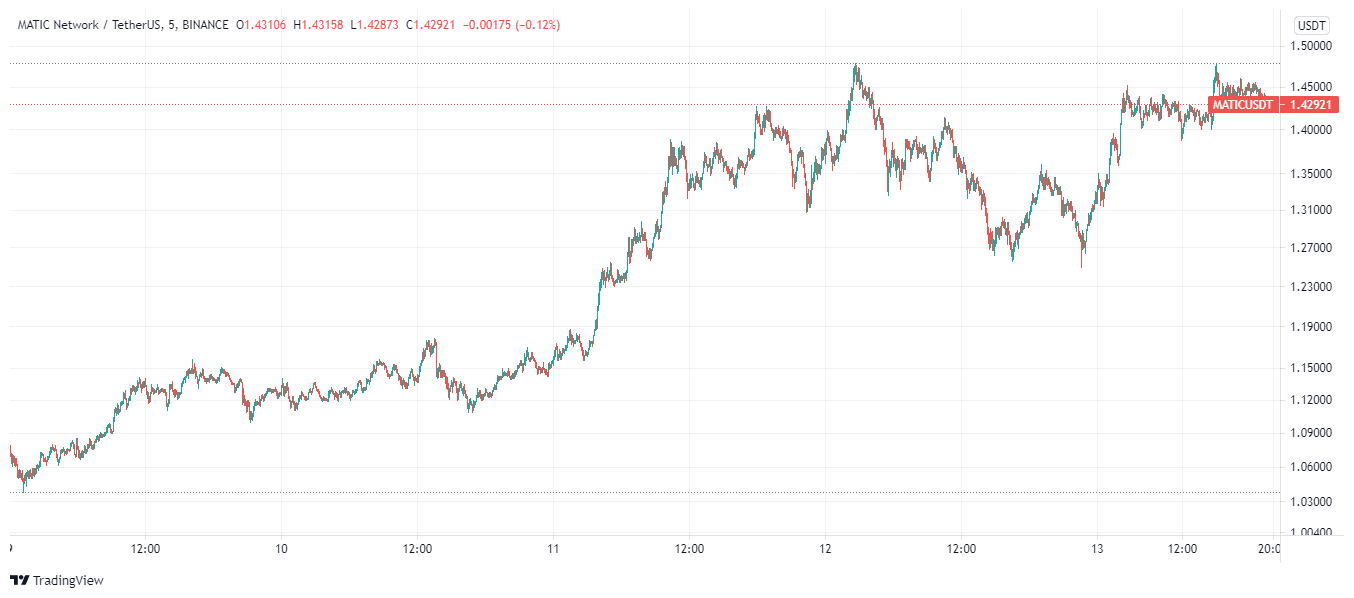 Polygon's growth has been impressive this year. This is visible looking at the different decentralized finance (DeFi) projects that have raced to integrate with the multi-chain solution in the past few months. The constant integration of protocols on Polygon has affected its native token positively. Thereby making it one of the best cryptocurrency to buy.
Polygon recently welcomed DeFi protocols, Mimo and Teller Finance. Mimo is a platform that allows users to mint stable tokens algorithmically pegged to the Euro without spending any digital assets. Teller Finance, which recently deployed its mainnet on Polygon, is a DeFi non-collateral lending protocol.
Polygon has also recently jumped on the non-fungible token (NFT) craze that has gained momentum this year. The network just launched an NFT collection called PolygonPunks on the Polygon (Matic) network.
The Polygon price currently is $1.41 and is up 4.09% in the last 24 hours. The 200-day MA price is bullish at $1.42, while the RSI is at the overbought region of 71.79.
Capital at risk
5. Axie Infinity (AXS)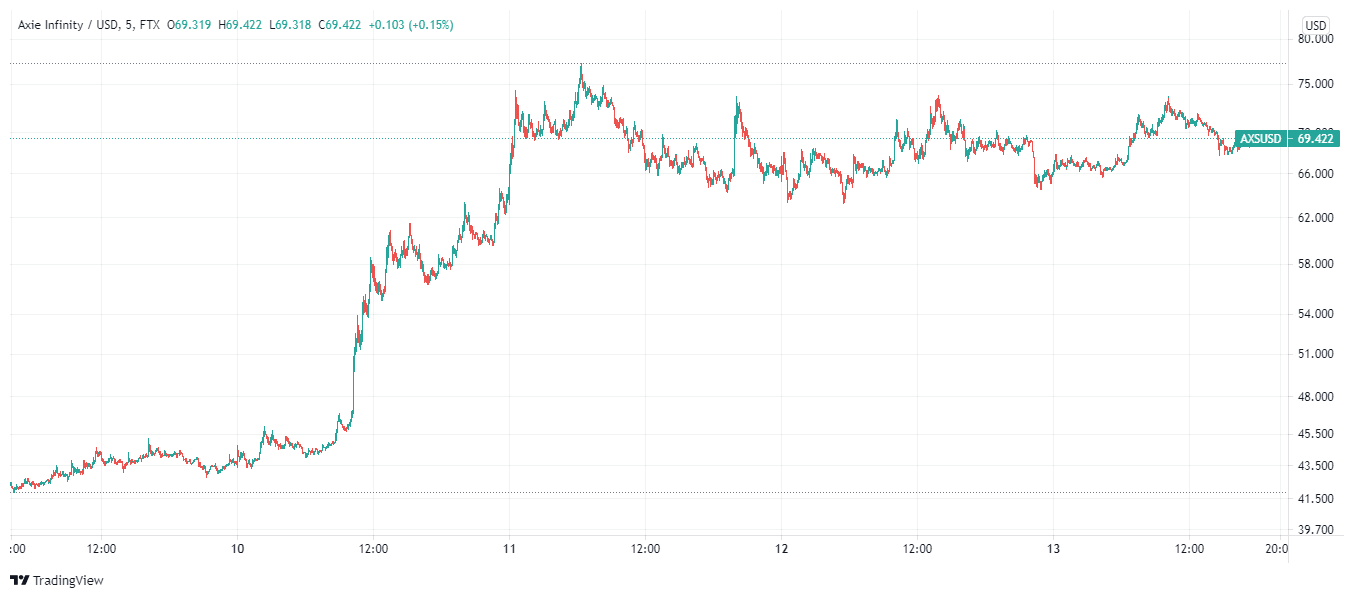 Blockchain gaming has seen exponential growth this year, and Axie Infinity is the top player in this field. The Axie Infinity blockchain is a digital marketplace for popular online games built on the Ethereum blockchain. Axie adopts a wildly popular free-to-play model where players can earn income through NFTs, breeding, battling, and digitally trading pets called Axies. The protocol draws inspiration from CryptoKitties.
The token's recent surge makes it one of the best cryptocurrency to buy this week. The native token AXS broke through its all-time high of $76.96 only a few days ago, making it a good investment for the long haul.
Currently, AXS is trading at $71.62 and is up 2.89% in the last 24 hours. It is ranking 31, with a live market cap of $4 billion. Looking at the long-term potential of the coin, the 200-day MA price is bearish at $69.847. However, the RSI is above the overbought zone at 81.34.
Capital at risk