5 Best Cryptocurrency for Quick Profits – September 2021 Week 3
There are numerous use cases for cryptocurrency. However, speculative has become a popular option for crypto holders. It's not uncommon for investors to buy into a cryptocurrency for quick profits. Market swings happen every day when it comes to crypto, and you can easily find coins that will be able to deliver impressive profits in a short time.
If you're looking for a cryptocurrency for quick profits, there are several exciting options to consider. We'll run through some options below.
1. Bitcoin (BTC)
Bitcoin's place as the largest cryptocurrency isn't under any immediate threat. The asset remains the top dog in crypto land, and it is usually the entry point for most investors looking to make money.
Bitcoin is in an unusually interesting position. The coin saw quite a loss last week, with its price dropping from $51,807 to $45,145- a drop of 12.8 percent over the week. This represents an interesting opportunity for investors looking for quick gains to buy into the asset. Adoption seems to be ramping up. However,  El Salvador continues to dominate headlines with its Bitcoin adoption and raft of crypto-friendly laws.
Currently, Bitcoin is trading at $46,081 – up 3.19 percent in the past day, but still down 9.69 percent in the past week. Investors might want to buy the dip a sit looks poised for a bigger move.
BTC is also doing quite well technically. The asset is still lower than its 20-day moving average (MAs) of $47,835, but it crossed its 200-day MA of $45,805 earlier today. This means the asset is on the way for bigger gains.
2. Ethereum (ETH)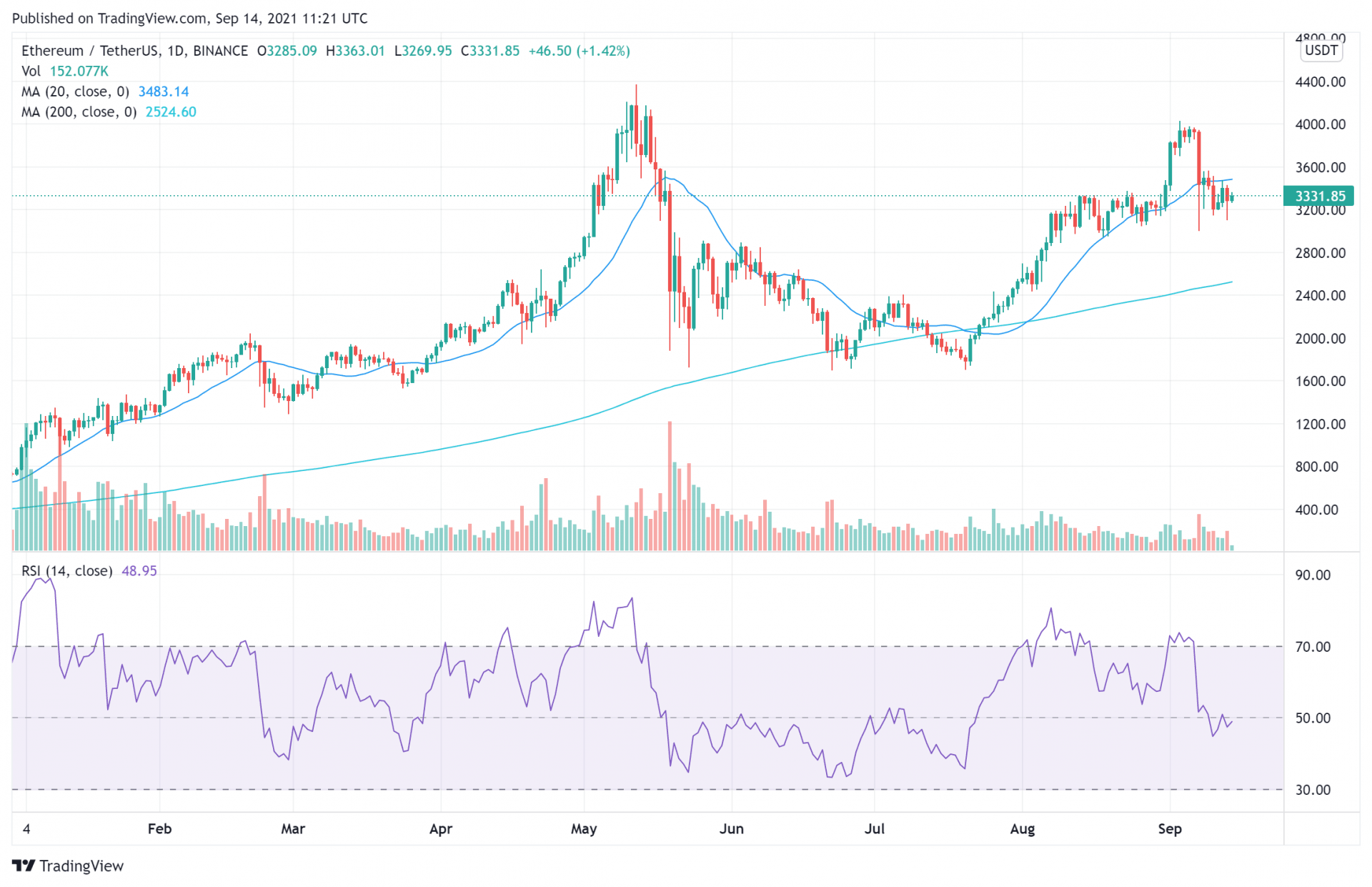 If there's any coin that can match Bitcoin in popularity, it would be Ether. The asset mirrors Bitcoin in many ways than one, and it is usually the first to follow Bitcoin's direction.
Some have also raised the possibility of ETH surpassing BTC as the world's top cryptocurrency. Standard Chartered became the latest to share this sentiment, doing so in a comprehensive investor guide last week.
So, it should come as no surprise that ETH saw a price drop over the past week. The coin's price dropped from $3,949 to $3,264 – a slump of 17.3 percent. But, it has been on the rise this week. Hence, our decision to include Ethereum as a top cryptocurrency for quick profits.
Currently, ETH trades at $3,334 – up 2.17 percent in the past day, but down 11.59 over the past week. The asset's 20-day and 200-day MAs stand at $3,492 and $2,530. This shows that consistent gains over the next day or two should push it above its 20-day MA and to more highs.
3. XRP (XRP)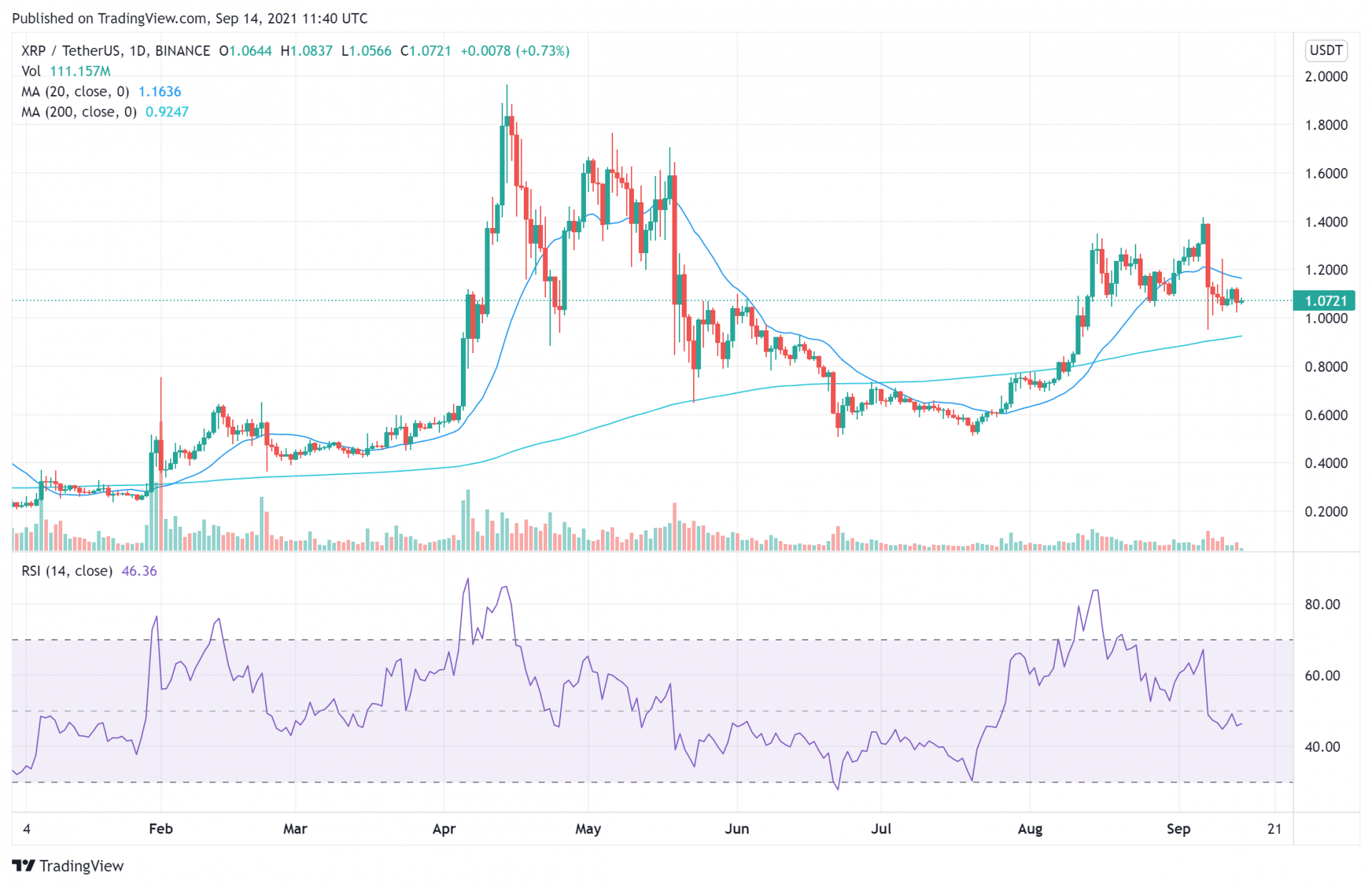 XRP is the most popular payment-focused cryptocurrency in the market at the moment. It is especially popular for offering quick transfers, especially across borders.

This year has been quite interesting for XRP. The coin has broken bounds even despite a lawsuit from the Securities and Exchange Commission (SEC) against its developers – Ripple Labs. for one, XRP managed to break the $1 for the first time in three years.
Like many other large-cap coins, XRP was down all last week. But, we're including it as a cryptocurrency for quick profits because of its performance over this week. XRP is trading at $1.07 – up 1.39 percent in the past 24 hours, but down 16.56 percent in the past week.
XRP is fundamentally strong as the excitement for the SEC case appears to be waning. An Op-ed published in Forbes called for an end to the whole legal debacle, and Japanese crypto exchange TaoTao recently relisted the coin as they believe Ripple Labs will win the case. The sentiment is very positive.
Technically, XRP is also quite strong. It's above its200-day MA of $0.92, and it just needs a few more gains to cross the 20-day MA of $1.15. With an RSI of 46.58, XRP is also quite underbought.
4. Polkadot (DOT)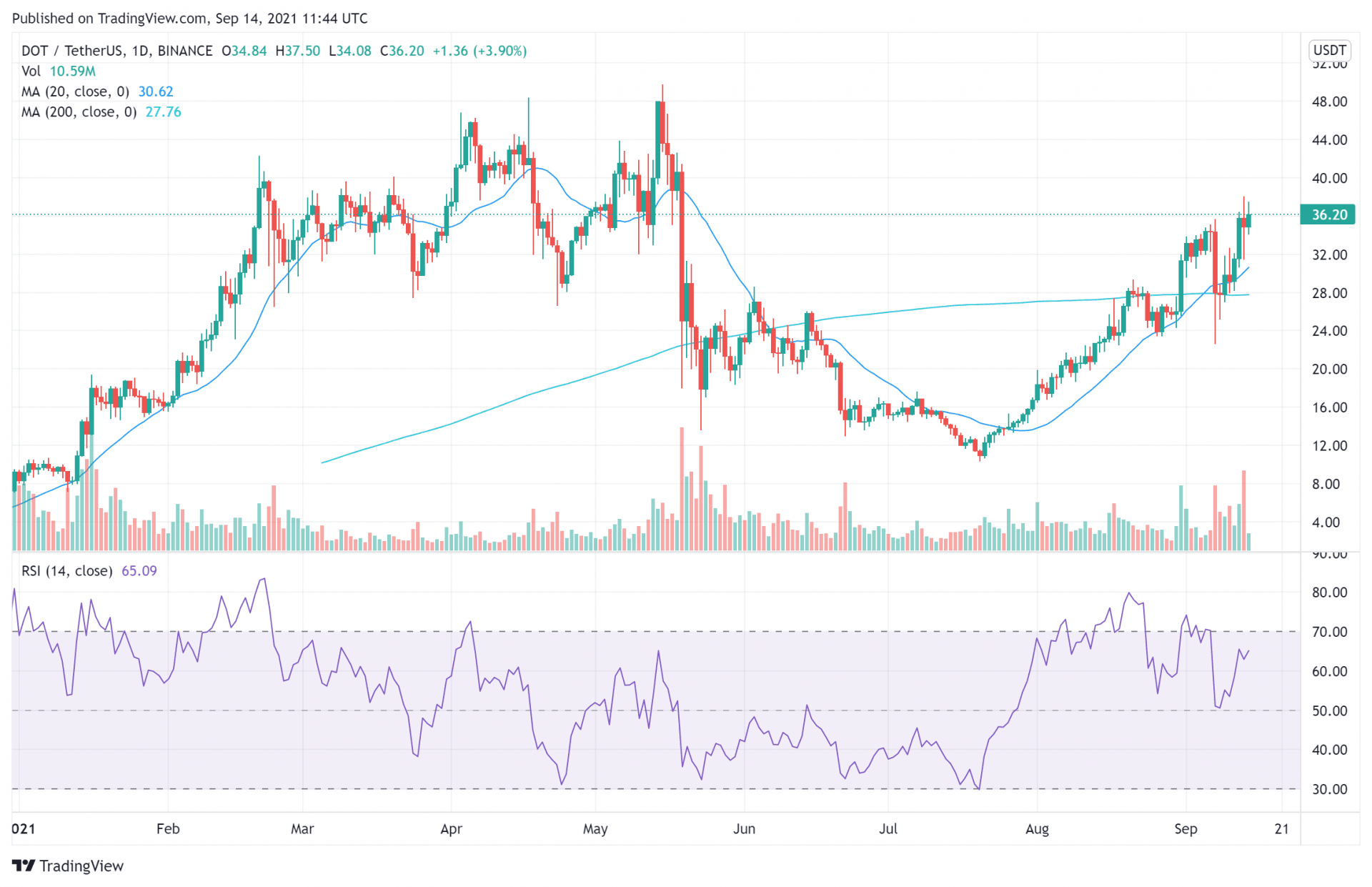 Polkadot is one of the most popular blockchains. It has emerged as a major "Ethereum killer," thanks to its impressive structure of using parachains.
Recently, the price of the platform's DOT token has been on the upsurge. Even all through last week, the coin's price jumped from $32.13 to $36.04. So, we're including it as a cryptocurrency for quick profits as well on the back of its impressive performance.
DOT concurrently trades at $36.14 – up 6.2 percent in the past day and 11.6 percent in the past week. The coin's price is well above its 20-day and 200-day MAs of $30.59 and $27.74, respectively.
Recently, Polkadot got some buzz in the non-fungible token (NFT) space as Effinity – a Polkadot-based chain – is looking to expand its compatibility with NFTs.
5. Algorand (ALGO)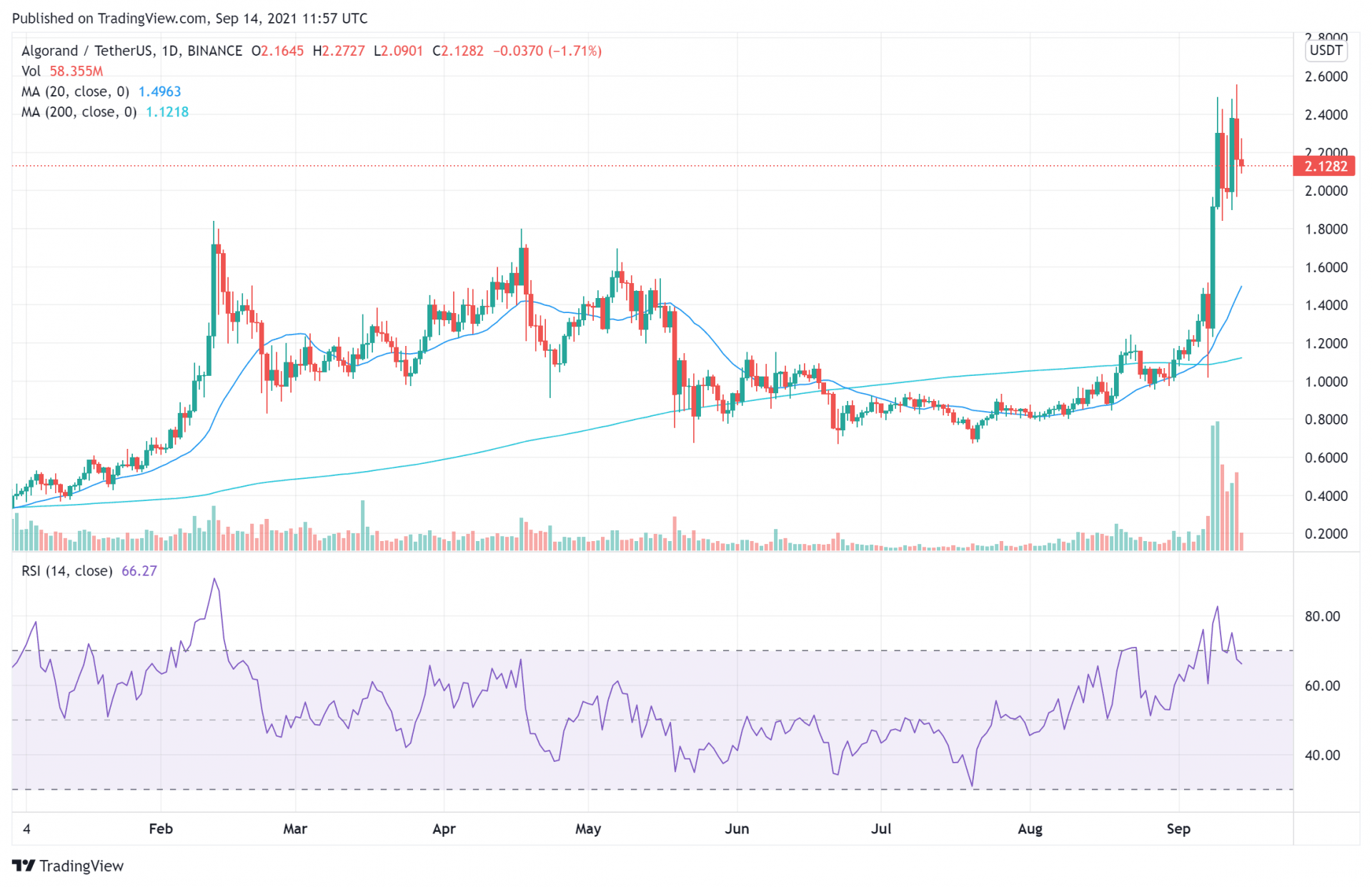 Algorand is a decentralized network that has its unique way of approaching the blockchain trilemma. It is a permissionless, open-source, proof-of-stake (PoS) on which anyone can build. Its token, ALGO, can be used for micropayments, governance, staking, and more. ALGO came into the limelight last week as its price jumped from $1.30 to $2.41 – a jump of 85.3 percent. In a week when most major coins saw dips, ALGO was on a high – and it even set an all-time high, too.
Adoption for Algorand could also rise, especially with the launch of the Viridis DeFi Fund – a $300 million fund to boost adoption of the DeFi sector. The fund is expected to fuel the growth of money markets, decentralized exchanges, synthetic asset apps, and more on the blockchain.
ALGO's price now stands at $2.13 – up 1.84 percent in the past day and 57.60 percent in the past week. The asset's 20-day and 200-day MAs of $1.50 and $1.12 show that it is still very much in line for bigger gains.